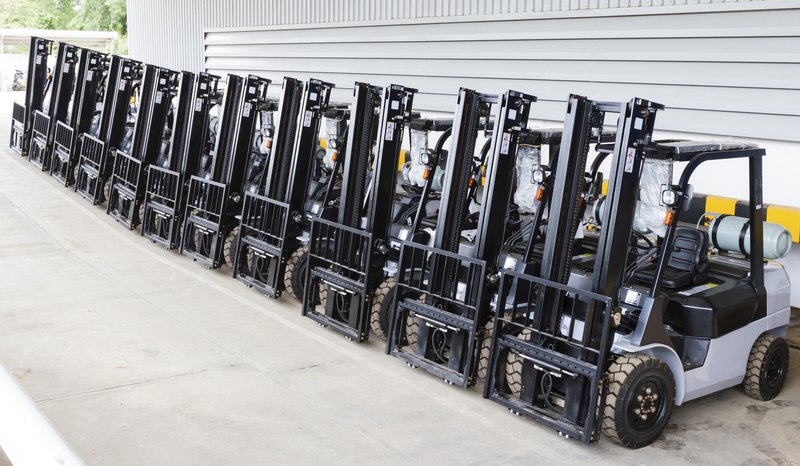 Today, there is a wide range of options when it comes to types of forklifts. Although all forklift types are generally recommended for handling goods and materials, the choice of a particular type usually determines the volume and quality of work output, time spent on the job as well as operational costs that you will incur. And, this means you must always be very keen when shopping for the products in order to get the best type of forklift tailored to your activities and budget.
Instead of struggling on your own to choose an ideal forklift type, Singapore ForkLift Service is the right partner that can offer an effective and lasting solution. We have many years' experience in the industry, which has enabled us to gain a perfect understanding of the various types of forklifts including, their strengths and weaknesses. Our company sources for the most reliable and efficient forklifts to ensure that all customers are able to get just the right machinery for handling goods and materials with greater safety.
The selection of our forklifts emphasizes on the need for improved productivity and lower operational costs. The main goal is to deliver a wide range of options for forklifts that can successfully accomplish varying client demands.  We are not only keen on product quality but, also pricing so you can always find the best forklift type that will effectively handle all your operations within the budget.
Main Forklift Types for Rent and Sale
Electric forklifts are designed to operate on re-chargeable batteries, which power the electric motors of the machine to facilitate various functions. Electricity does not contribute carbon emissions, making electric forklifts very Eco-friendly. They are mainly ideal for indoors and areas where very low temperatures are experienced like, cold-storage facilities.
These are mainly recommended for heavy duty and large projects like, handling goods in shipping yards, building and construction sites. IC forklifts operate on mechanical energy, which is generated by various forms of chemicals or fuels including, diesel, gasoline, LPG and CNG. They can lift greater load capacities at higher speeds than most types of forklifts.
In case you conduct materials and goods handling outdoors, a diesel forklift is the best type to go for. Powered by diesel, the forklifts can also be used indoors but, with additional features to control the emissions generated from the machines. Despite the few environmental concerns of diesel forklifts, they are efficient and quite productive in varying work conditions.
Gasoline forklifts offer greater flexibility in terms of application. They can serve a wide range of goods-handling operations both indoors and outdoors. Designed with internal combustion engines, the machines run on gasoline. As a result of this, they can have slight environmental impacts. Compared to most forklift types, gasoline forklifts are considered more cost-effective.
To those who may be skeptical about diesel and electric forklifts, the Liquid Propane Gas forklift is a good option to consider. LPG forklifts are powered by Liquid Propane Gas, which is Eco-friendly, safer and, cheaper. Besides, they are run quietly and smoothly. Thus, the forklifts can be used indoors and outdoors with the least risks to users as well as the environment.
CNG forklifts are considered a more efficient option, which delivers greater performance while also maintaining better quality of air in the workplace. Unlike gasoline or diesel-run forklifts, Compressed Natural Gas forklifts generate very low emissions. Besides, they are also very economical in terms of the operational and maintenance costs.
VNA forklifts are the best pick for handling goods and materials in limited spaces or small-sized warehouses. They are relatively smaller in size than most forklift types but, can deliver the best performance in a wide range of applications. VNA forklifts are also designed with impressive safety and easy maneuverability features for convenience.
Telescopic forklifts are the most versatile machines for handling goods. Although they look bulkier in size, telescopic forklifts can handle larger load capacities in the harshest conditions. In fact, telescopic forklifts can also double up as cranes, significantly maximizing productivity in operations. A telescopic forklift can perform in conditions that most common types cannot.
Container forklifts are the most suitable forklift type for handling goods and materials packed in containers. These are the perfect machines for shipping companies and larger warehouses where other ordinary forklifts have proven inefficient. Depending on the model, these forklifts can safely lift and move one or more containers at a time, making them very reliable.
Truck Mounted forklifts are also considered quite efficient since they can be easily set up and are also more flexible than most forklift types. The forklift can be attached to the rear of the truck and moved to the location of offloading for easier and faster handling of materials. Despite its light weight and smaller size, this forklift can work quite well in diverse conditions.
In case you operate in an area where the ground is not smooth or leveled like, building and construction sites, and industries, a Rough Terrain forklift is the right type to acquire. These forklifts are built to deliver greater performance in harsh working conditions with minimal risks. As a result of this, they are mainly ideal for large-scale outdoor applications.
Unlike other forklift types, side loaders have a unique design that make them great for a wide range of applications in handling materials. As the name suggests, side loaders have their forks for lifting goods placed on the sides. This enables them to easily maneuver even on areas with space limitations. Besides, they are easier to operate and also very safe.
The Best Quality and Affordable Forklift Types Singapore
At Singapore ForkLift Service, we provide a wide range of the best quality forklift types for rent and sale. Our company deals in diverse forklift brands, spare parts, warehouse equipment and professional forklift repair services. Talk to us for the best forklift type customized to your needs and budget.