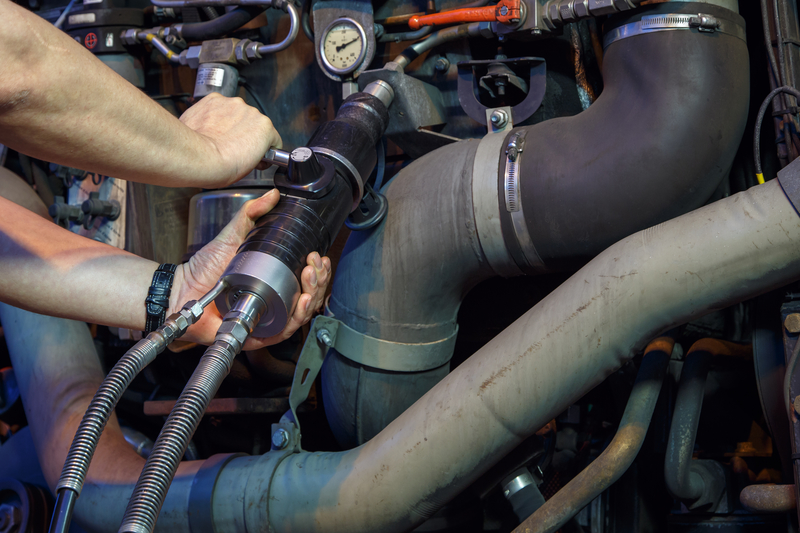 Compressed Natural Gas forklifts are mainly preferred because of their ability to preserve air quality and safety in the workplace. Besides, CNG forklifts also offer a more cost-effective option than diesel and electric forklifts. Considering these benefits, Compressed Natural Gas forklifts are becoming a very popular and competitive forklift in most warehouses and storage facilities across Singapore.
Choosing a Compressed Natural Gas forklift is a decision that could go a long stretch in enhancing efficiency and overall productivity in your establishment. At Singapore ForkLift Service, that is the goal of our operations. We know that CNG forklifts can serve a wide range of applications in handling goods, thus, strive to offer a wide range of options. Our huge product range is aimed at ensuring that you are able to easily get the perfect CNG forklift.
The diverse options for CNG forklifts that we stock are designed with greater focus on flexibility and reliability. All our Compressed Natural Gas forklifts for hire and sale are offered at very competitive rates for affordability. Our commitment is to cater for both small scale and large scale warehouse operators. Our products come with a guarantee of the best returns on investments, which can significantly push your business to the next level.
Advantages of Compressed Natural Gas Forklifts
CNG forklifts are a good recommendation for storage establishments that are more committed to workplace safety and efficiency. The following are main reasons to support the credibility of our Compressed Natural Gas forklifts;
Less Costly and Safe
We understand the financial strain in business and, are always looking towards delivering pocket friendly solutions. CNG forklifts run on Natural Gas, which is quite readily available across Singapore and, also less costly than most fuels used to power forklifts. Besides, the machinery are also designed with unique energy-saving functions to ensure minimal fuel consumption even after long hours of operation. On the other hand, CNG forklifts also require relatively low maintenance than most forklift types including, electric and diesel.
One of the safety qualities of Compressed Natural Gas is its inflammability. Unlike other common fuels that can easily catch fire, Natural gas freely dissolves into the air in the form of CO2 and water vapor whenever there is a leakage, although that is uncommon. These substances cannot cause harm to the environment or air quality, which ensures the safety of workers as well as the place of work.
Compared to other fuels that emit pollutants like, carbon monoxide and fumes when burning, Natural Gas is very clean. In fact, it does not even produce bad smells associated with gasoline and diesel forklifts. As a result of this, CNG forklifts operate smoothly and with less noise, which makes the workplace very conducive. All these qualities qualify CNG forklifts a great pick for handling materials in enclosed warehouses.
Reduced Downtime and Longer Lifespan
There are several aspects of efficiency linked to Compressed Natural Gas forklifts. When using these machinery, there is always less downtime. For example, refueling the gas cylinders is quite fast and easy, in just a matter of minutes. In fact, the refueling can be done right on site without driving the forklift to the gas station or changing huge cylinders. In terms of maintenance, there is usually very little involved when using a Compressed Natural Gas forklift.
The clean burning of CNG also helps in protecting the engine, thus, a longer lifespan for the forklift. With little time spent on refueling and maintenance, you will always be able to improve productivity in many ways. The extended lifespan for the machinery is also a greater advantage that will ensure lower operational costs. This can effectively eliminate most of your fears, instead, give you a better opportunity to focus on the core activities of your business.
Offered in a Wide Selection of Brands
Singapore ForkLift Service sources for a wide range of powerful and affordable forklift brands to suit your demands and preferences. We only stock genuine and leading CNG forklift brands that are proven reliable and cost-effective. Our portfolio includes top forklift brands ranging from Hyster, Mitsubishi, Caterpillar, Nissan, Manitou, Komatsu, TCM, Toyota, Still to Crown forklifts. We continuously review other competitive forklift brands too in order to give you the best options.
All the CNG forklift brands that we offer are available in several sub-categories including, models and series. In order to make it much easier for you to find an ideal Compressed Natural Gas forklift, we also provide proper information about each model at the request of every customer. Our representatives will walk you through the unique features and specs of our CNG forklift varieties. In this way, there is always an assurance of the right CNG forklift brand for your budget and business.
Whenever you are using a Compressed Natural Gas forklift from our company, you will never be bothered with the hassle of finding spare parts, maintenance and repair services. This is because, we also provide quality parts for all models of CNG forklifts. And, our engineers can always assist in choosing the right parts and components for the particular CNG machinery that you operate.
However, we do not just stop at that; our engineers are also trained to conduct professional forklift repair and maintenance services. In fact, we work round-the-clock and can always respond to inspect and fix your CNG forklift in a very short notice. And, you do not have to come all the way to us; we can always send a team of engineers to your work-site to administer the services at your own convenience.
Besides CNG forklift parts and repairs, we can also deliver a selection of dependable and affordable warehouse equipment comprising, tow tractors, reach trucks, hand pallet trucks, order pickers and electric pallet trucks.
Singapore ForkLift Service is the one-stop-shop for quality and cost-effective CNG forklifts for rent and sale. We offer full range forklift solutions including, spare parts, warehouse equipment, repair and maintenance services to suit all your needs and budget.