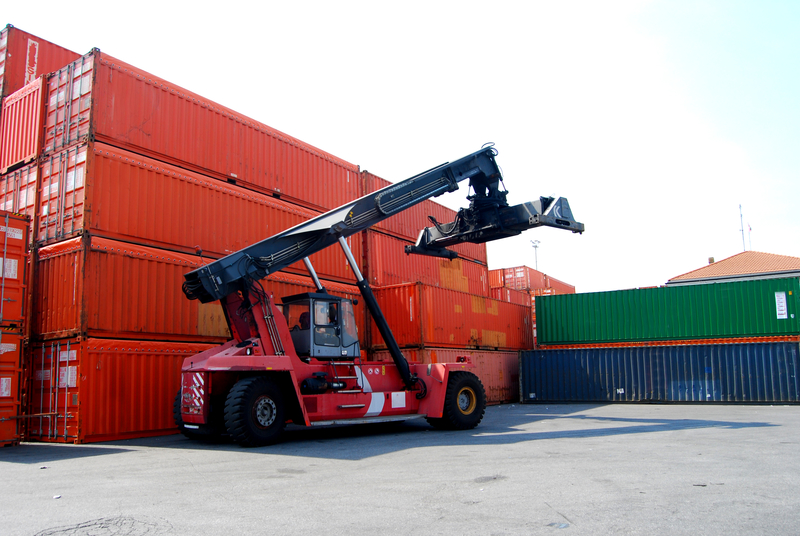 Container forklifts are the recommended machinery for handling shipping containers. And, this is one of the key reasons they are the most common forklift types used in most shipping yards and large-scale storage facilities. Unlike most standard forklifts, container forklifts are specially designed for high performance in heavy duty operations, involving the lifting and moving of containers from trucks, trains, ships and other vessels.
If your business is involved in the transportation and storage of goods and materials in containers, a container forklift is the most ideal machinery to go for. And, Singapore ForkLift Service is the best place to buy or rent the machinery from. Our container forklifts are offered in a wide range of options from where you can easily get the most suitable pick for your operations. And, we always go out of our way to provide affordable container forklifts to suit every budget.
We understand that customers always have varying demands when it comes to container forklifts. Thus, always strive to provide diverse options that can effectively serve various applications with the least effort. Besides, we also have Customer Care representatives who are dedicated to offering guidance to all our customers when shopping for the products just to make sure that you are able to find the right container forklift for your project and budget. With us, you are always guaranteed the ultimate container forklift solutions.
Advantages of Container Forklifts
Container forklifts provide diverse functionalities, which make them suitable for various container-handling needs. The following are more reasons why you should consider hiring or buying our container forklifts;
Strong and Versatile
The flexibility in the design and operations of container forklifts is one of the key features that make these machinery very efficient in handling goods and materials. The forklifts come in two key varieties; for handling empty as well as loaded containers. Besides, container forklifts can lift and move varying load capacities with a lot of stability and precision despite the working conditions. Due to the durability of these forklifts, they offer users the freedom of stacking and lifting many containers at once.
Although the number of containers and weights that each forklift can handle vary from one model to another, they can generally accommodate huge loads in a short time. In fact, we have container forklifts that can safely lift and move up to eight containers at once. Depending on the size of the container forklift that you choose, there are those that can even handle loads of up to nine tonnes. The components of these machines are carved from materials with high tensile strength to withstand huge loads.
Our container forklifts are also suitable for both indoor and outdoor container handling operations. They are relatively smaller in sizes, which enables them to easily maneuver even in limited spaces, lifting heavy loads. For indoor applications, it is advisable to consider installing purifiers and other accessories to avoid the environmental impact that could result from the diesel used in powering the machines. However, we can also offer container forklifts that are powered by other fuels with little to no environmental impacts.
Ergonomic Construction
Owing to the huge load capacities that are handled by these machinery, they are also accorded an ergonomic construction to ensure the safety of operators and other workers.  There are various safety and comfort features embedded on our container forklifts, which have ensured significant reduction in cases of accidents to those using them.  They have comfortable seats, better visibility and protective features to shield drivers from risks of injury while at work.
Considering the sturdy construction of the various parts and components of our container forklifts, there is no doubt they are quite safe for handling materials both indoors and outdoors. However, you must always be keen to use the forklifts with the recommended load capacity for better safety and, also longevity of the machinery.
Diverse Brands to Choose from
In an attempt to meet the diverse customer demands when it comes to container forklifts, our company provides a selection of the best forklift brands in the market. We always conduct through research in the market to identify top container forklift brands that guarantee greater performance and affordability in handling goods and materials. Some of the best container forklift brands that we offer include, Toyota, Caterpillar, Manitou, TCM, Still, Komatsu, Hyster, Crown, Mitsubishi and Nissan.
In case you may have a problem in identifying the best container forklift brand, our engineers are always on stand-by and ready to assist. Having handled different forklift brands, we know the best ones for each application and, will always help you in choosing the right match for your operations. Our goal is to make sure that you are able to get an ideal container forklift that can effectively serve your needs within the budget that you have.
Unlike other types of forklifts that will take you several days looking for spare parts, our container forklifts' components are quite easy to find. We understand the inconvenience that could be caused when you are forced to halt operations simply because of a missing forklift spare part. Thus, our company also provides a wide range of spare parts for container forklifts, which can always be delivered to you at any time that you need to replace components or conduct repairs.
In order to easily save you from the stress of replacing spare parts or fixing container forklift problems, we also have trained engineers that can deliver professional repair and maintenance services. All these are always readily available and, can be offered in just a short notice to ensure that your container forklift is up and running in no time. For convenience, our engineers can always visit and conduct repairs right on site without putting you through the humiliation of driving or transporting the machine to our workshops.
Apart from container forklift spare parts and repair services, we can also provide a wide range of warehouse equipment for use with container forklifts including, tow tractors, electric pallet trucks, reach trucks and order pickers.
Get in touch with us for the best quality, affordable and reliable container forklifts for rent and sale in Singapore.