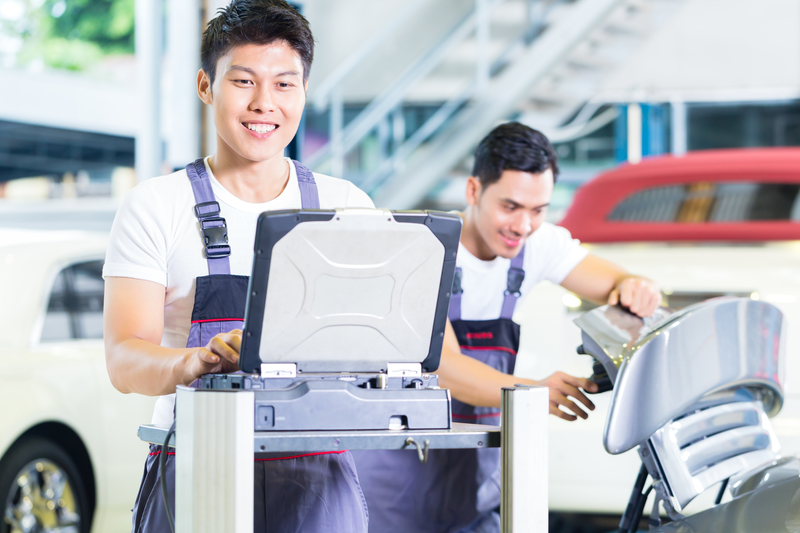 When looking for a reliable partner to repair, maintain and service your forklift in Singapore, Singapore ForkLift Service is the right company to always count on.
Our company specializes in professional forklift repair, maintenance and servicing for all brands, types and models of forklifts. We have greater experience in these procedures to always deliver the best solutions tailored to the needs of your forklift. Our company has a dedicated team of trained and certified engineers to conduct proper forklift inspections, repairs and servicing to make sure that the machinery is kept in the best working condition.
Although forklifts are a great tool for handling goods and materials in warehouses and other work sites, remember the condition of the machinery is always important in determining their performance. As a result of this, it is advisable to always engage us in preserving the life of your forklift. We can help you keep the machinery in perfect shape so you are not inconvenienced with frequent breakdown while working.
At Singapore ForkLift Service, all our engineers are trained with many years' experience in forklift repair, maintenance and servicing. And, this enabled us to always deliver professional solutions. Besides, all our engineers are also certified to conduct the services in Singapore, thus, there is always greater accountability in every project that we work on. The following are more reasons to always choose our company for forklift repair;
Full-range Forklift Repair Solutions
Generally, there are various kinds of hitches that can be experienced when using forklifts. Some of these can be impacted by wear and tear, malfunction in one or more components, and environmental conditions among others. In recognition of this, our engineers are trained to deal with a wide range of forklift problems including, common and complex ones. Our forklift repair and maintenance services cover all areas and, are aimed at delivering the ultimate solutions.
Whenever you hire us for forklift repair, maintenance or servicing, our engineers will visit you to look at the machinery. We always conduct thorough inspections to ascertain all causes of problems and come up with the best solutions. Depending on the condition of the forklift, we will discuss with you and deliver the best remedies to not only bring it back to life but, also avoid the occurrence of such hitches in the future.
Our company stocks high quality spare parts, which you can always select for repairs. The fact that we have forklift spare parts enables us to always handle tasks fast and with greater reliability since we do not rely on customers to provide the parts for replacement or repairs.
We understand that there are various forklift brands and types that are used in most storage facilities and construction sites in Singapore. Thus, our engineers are well versed on dealing with all the popular forklift brands and types for the ultimate solutions. Some of the key forklift brands that we can repair and service for you include, Toyota forklifts, Komatsu forklifts, Caterpillar forklifts, Manitou forklifts, Nissan forklifts, TCM forklifts, Still forklifts, Hyster forklifts and Crown forklifts.
Over the years that we have been in business, we have been able to deliver tailor made repair and maintenance services for a wide range of forklift types including, electric forklifts, diesel forklifts, gasoline forklifts, LPG forklifts, Compressed Natural Gas forklifts, Container forklifts, Rough Terrain forklifts, Side Loaders, Truck Mounted forklifts, VNA forklifts and Telescopic forklifts. Even if you have a forklift of a different type from these, you can still talk to us for the best repair, maintenance and servicing.
Regular Forklift Inspection and Maintenance
Most forklift owners only engage engineers whenever the machinery encounters a problem that hinders performance. However, that usually impacts greater inconvenience and costs, which could be very expensive in the long term. The best way to preserve the life of the machinery is regular or scheduled inspection and maintenance that we can also deliver. Our engineers can always conduct proper inspections of the various components of your forklift on regular basis or after every short while to make sure that they are working as required.
During forklift inspection, we always focus on all areas and components of the machinery including, oil and water levels, condition of the tires and general body of the forklift. For electric forklifts, we will also check the condition of the battery and other accessories used in powering the machine. Depending on the condition of your forklift, how and the environment it is used, we can recommend and provide regular inspection, maintenance and servicing for convenience.
Our company can always plan and execute forklift inspection and maintenance in accordance with your schedule. In this way, you will not need to stop operations for maintenance. Through our regular forklift inspection and maintenance services, you will be able to discover problems in time before they generate into fully-fledged conditions that could impact the performance of the machine.
Dependable Forklift Repair Services
With us, you will no longer be kept waiting for a solution whenever your machine encounters a problem. We have adequate engineers that can be dispatched to your service in the shortest notice. And, we always try to conduct the procedures fast so that your operations are not halted for long simply because of forklift repairs. As soon as your request for forklift repair is approved, our engineers will be sent to serve you at your own convenience.
We always recommend that clients let us serve them right on location so you do not have to go through the stress or spend more money transporting the machine to us. Our company operates across Singapore and, can always deliver the best forklift repair services that you need at your work site in a short notice. In case your forklift has a much bigger problem that might take long to fix, we can also offer an ideal forklift rental to use temporarily as we work on it.
Affordable Forklift Repair Singapore
By relying on Singapore ForkLift Service for forklift repair and maintenance, you are also guaranteed greater savings since we have the most competitive prices in the market. Talk to us today for professional forklift repair, maintenance and servicing Singapore.