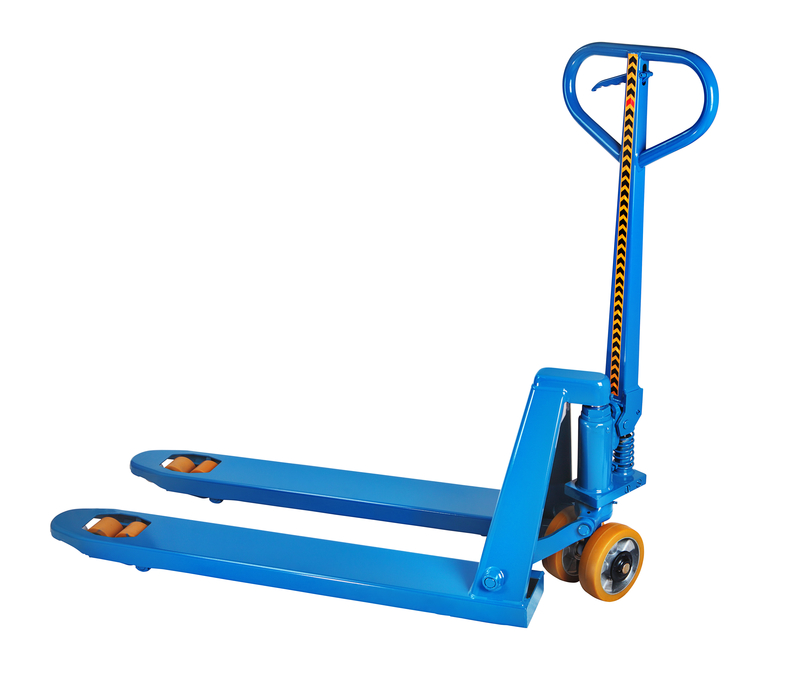 The hand pallet truck is a common equipment used in quite a number of facilities across Singapore today. Its easy maneuverability is one of the key aspects that makes it ideal for handling materials in most warehouses and, also construction sites. Despite the simple design of hand pallet trucks, they can easily handle heavier pallets with so much ease and faster than most kinds of warehouse equipment.
Also known as pump or lift trucks, hand pallet trucks are a versatile goods-handling equipment that can serve a wide range of applications in your business. At Singapore ForkLift Service, our goal is to deliver a selection of the best hand pallet trucks that can effectively meet diverse needs and preferences of all warehouse operators. And, this has enabled us to always deliver full-range and affordable solutions for many businesses involved in the storage and movement of goods in Singapore.
We always give precedence to customer satisfaction in every product and service that we offer. Besides the diversity in our hand pallet trucks, we also have trained Customer Care representatives and engineers to offer proper guidance to customers when choosing our products so you can always get the most suitable hand pallet truck for your job and budget. All the trucks are readily available for rent and sale whenever you need them. We are the most reliable partner that can help you get the right hand pallet truck for your business.
Why Choose our Hand Pallet Trucks
Using our hand pallet trucks do not require special licenses. In fact, compared to other warehouse equipment, most warehouse operators today are opting for our hand pallet trucks. And, this only confirms the greater benefits that you can also experience by hiring or buying a hand pallet truck from us. The following are more reasons to always choose our hand pallet trucks;
Compact and small in size
Hand pallet trucks usually look very simple in construction but, they are among the strongest warehouse equipment that can efficiently handle huge loads. Although they are smaller in size, the frames and components of our hand pallet trucks are crafted from highly durable materials that can effectively lift, hold and move heavier goods without any problems. The compact design of these trucks makes them very long lasting, which could also save you from elevated maintenance costs.
Considering the small size of a hand pallet truck, they can easily move goods and materials in limited spaces. This means you will not need to clear a larger area for operating a hand pallet truck. The space that is saved can instead, be used for more storage, thereby improving productivity. The fact that a hand pallet truck can be easily maneuvered in narrow spaces, your workers will also be able to conduct operations much faster. Besides, the compact and smaller sizes of hand pallet trucks also make them a good option for facilities with space limitations.
Easy to operate
The easy maneuverability of hand pallet trucks is a key feature that attracts most warehouse operators. Our hand pallet trucks are designed for greater reliability in lifting and moving goods on flat and smooth surfaces. The trucks have handles, which are used by the operators to steer them to the desired directions when working. These trucks are manually-run with simple control features that operators can easily master without a lot of effort.
For efficiency, the trucks have jacks at the base that are for easy lifting and lowering of materials. The base of the truck is quite closer to the ground for better stability even when under intense pressure from very heavy loads. As a result of all these features, there is very little effort required from the operator, which enables them to handle goods faster and, also in greater safety. Besides, easy operation of hand pallet trucks also contributes significant improvement in productivity.
Offered in a Selection of Trusted Brands
When seeking hand pallet trucks from our company, there is no limitation to any particular brand. We provide a selection of trusted hand pallet truck brands in the market that guarantee unrivaled efficiency and reliability in handling goods and materials. Our company usually conducts thorough reviews of various hand pallet truck brands to ensure that you always get the best for your business.
The main brands of hand pallet trucks that you can get from our company include, Komatsu, Caterpillar, Hyster, Crown, TCM, Still, Toyota, Nissan and Mitsubishi. Since each of these hand pallet truck brands have varying specs, our engineers will take you through the features of every model for informed decision making. Despite the needs of your business and budget, we can always help you in choosing the most suitable hand pallet truck brand.
By relying on us for hand pallet trucks, you are also guaranteed reliable services for the machinery. Our company also specializes in professional repair and maintenance services for hand pallet trucks, forklifts and other warehouse equipment. Our engineers work round-the-clock, and are always ready to visit your warehouse to inspect and fix the hand pallet truck whenever you are having a problem. We are always quick in responding to requests by clients to avoid causing inconvenience.
Another reason why most people choose our services is, we also deal in spare parts. Depending on the kind of problem that your hand pallet truck is experiencing, we can recommend and install the best spare parts for greater performance and longevity. Since we have all the spare parts and engineers for hand pallet truck maintenance and repairs, we can always conduct all the activities much faster and, also right on location so you are not kept waiting for too long.
The Best Hand Pallet Trucks for Hire and Sale in Singapore
Finding the best hand pallet trucks to buy or hire can sometimes be challenging but, anymore. At Singapore ForkLift Service, we can always deliver the right hand pallet truck, forklifts, spare parts and repairs for your business and budget. Talk to us for the best hand pallet trucks for rent and sale in Singapore.