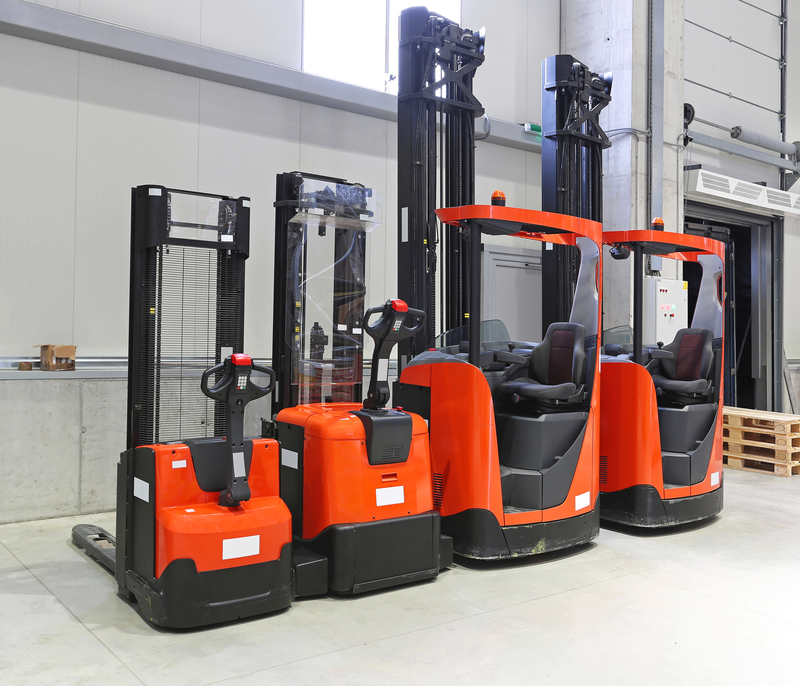 Electric pallet trucks are usually considered a great option for lifting and moving heavier goods and materials in warehouses. Since these trucks are powered by electricity, they are also very efficient in terms of energy costs; an aspect that makes them very reliable. The machine is designed with a throttle, which is wired to the handle for easy maneuverability across even squeezed aisles. The handle is the main control feature of the pallet truck, which is steered by simply swinging it to the desired direction.
The operation of an electric pallet truck is very easy and simple due to the minimal but, effective features. Instead of brakes like, in most warehouse equipment, electric powered trucks have a dead man's switch, which the operator can easily press to bring the machine to a stop. In fact, there are several other amazing features of our electric pallet trucks that make them ideal for both small, medium and large-sized warehouses.
At Singapore ForkLift Service, we stock a huge selection of electric pallet trucks for rent and sale. Our company sources for the best selection of electric pallet trucks to enable every client get just the right equipment for their facility and budget. We have the most competitive rates in the market, which can also be tailored to your specific business' needs. Our goal is to always deliver diverse and affordable warehouse equipment for a wide range of applications in handling goods and materials.
Why Choose our Electric Pallet Trucks
Despite the variety of options offered in the market, our electric pallet trucks have continued to attract many warehouse operators in Singapore. And, this is mainly due to the quality and affordability of our products. Here are some of the main reasons you should always buy or hire electric pallet trucks from our company;
Easy Operation and Safe
Our electric pallet trucks are very safe and, can go a long way in enhancing the safety of your workers as well as areas of operations. Most of the functions of these electric pallet trucks are automated or power-assisted, which does not require a lot of input from the operator. In fact, even the lifting systems of the trucks are automated to eliminate a wide range of risks that operators and other workers could be exposed to.
Since the truck is not enclosed, there is also greater visibility for the operator, which also helps in reducing cases of accidents or injuries. For easy maneuverability and better safety, there are also some models of electric pallet trucks with platforms where the operators can comfortably stand when using the machine. With an electric pallet truck, there are also less cases of stress or strain on the part of operators, which offers great motivation for improved productivity.
The fact that electricity does not have any environmental impacts, electric powered pallet trucks are ideal for warehouses that are enclosed or indoor applications. Even after working longer hours with an electric pallet truck, you will not experience change in air quality, which is great in ensuring workplace safety. Remember, your workers will always be more productive when the working conditions are conducive and favorable for them.
Versatile Electric Pallet Trucks
There is usually so much that you can achieve with our electric pallet trucks when it comes to handling materials and goods in a warehouse. Unlike other kinds of warehouse equipment, electric pallet trucks can lift both small, medium and huge loads without slowing their performance. However, we also offer electric pallet trucks for lifting different weight combinations that you can choose based on the particular applications that you need the truck for.
Fast and Cost-Effective
Whether you own a small or larger warehouse, the speed at which goods are moved is always an important factor in the operations. And, our electric pallet trucks are the right equipment that can deliver better performance at higher speeds to enable you complete tasks in a shorter period of time. The automation of electric powered trucks enables them to run faster, handling varying load capacities in less time than most warehouse equipment.
Despite the higher speeds of our electric pallet trucks, they are also enhanced with advanced energy saving features for low consumption of electricity. Contrary to what some may tend to think, the higher speeds of these machines do not have any impact on fuel consumption. In fact, the trucks can run for very long hours on less energy than those powered by diesel or gasoline. Considering the low energy consumption of electric pallet trucks, they can also help you reduce the overall operational costs of your business.
Available in various Leading Brands
With us, you will also get to choose an electric pallet truck brand that suits your business and budget. We offer a wide range of the best electric pallet truck brands in the market, which are proven reliable and efficient in handling goods and materials. The main brands that we stock include, Toyota, Caterpillar, Hyster, Manitou, Komatsu, Mitsubishi, TCM, Still, Crown and Nissan. These brands are further categorized into various models from where we will help you select the most suitable truck for your business and budget estimates.
Whenever you buy or hire an electric truck from our company, you are also guaranteed greater reliability in terms of spare parts and repair services. We also provide quality spare parts, which you can easily acquire for fixing problems or improving the output of the truck. Even after obtaining the required spare parts, we can still dispatch our engineers to conduct repairs on the machinery. Our engineers are trained and have many years' experience in handling forklifts and warehouse equipment to always deliver professional workmanship. We can effectively conduct electric pallet truck inspection, repair and maintenance services at the convenience of every customer.
Affordable Electric Pallet Trucks for Hire and Sale Singapore
When planning to buy or rent an electric pallet truck in Singapore, Singapore ForkLift Service is always the best market place to visit. Even if you need affordable forklifts, spare parts and repair services Singapore, do not hesitate to get in touch with us.