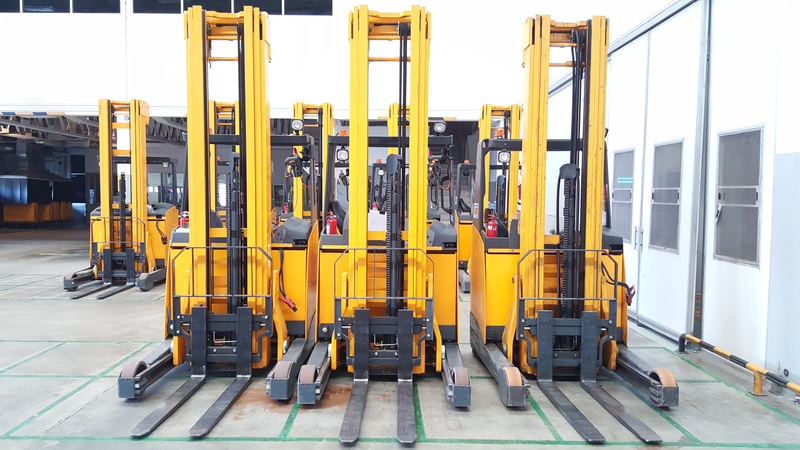 When looking for an ideal forklift for handling goods and materials in outdoor environments, a diesel forklift is one of the best to consider. These machines are designed with greater acceleration and loading features, which enables them to deliver better performance in varied conditions. Besides, the dimensions for these machine's ground clearance enables them to efficiently operate on various kinds of surfaces, including rough terrain.
The best place to always shop for diesel forklifts is Singapore ForkLift Service. Our stores stock a wide range of options for diesel forklifts that you can either buy or rent with the least effort. We have many years' experience in the industry and, know the best selection of diesel-powered forklifts that can successfully accomplish various tasks in storage facilities as well as distribution centers without draining your pocket.
Considering the shifting customer needs in the forklift industry, our company offers a huge collection of diesel forklift models by various leading forklift brands. And, we also have a dedicated Customer Support team to ensure that customers are well enlightened on all the options that we provide for informed decision making on your part. Our commitment is to consistently provide the best forklift solutions tailored to the demands, preferences and budgets of every warehouse operator.
Advantages of Diesel Forklifts
There are several merits of diesel forklifts, which have enabled them to survive the volatile forklift market. Some of the main attributes that make diesel forklifts a good option for handling materials include;
Greater Efficiency
Diesel forklifts are accorded a unique design that contributes to more enhanced performance than electric and even LPG forklifts. Typically, the machines have better drive line torque at less Rounds Per Minute than most forklift types. As a result of this, their acceleration and load-lifting capabilities are much better. They can handle up to 45 tons of goods and materials at higher speeds without a problem. And, this also ensures that very little fuel is used during operations.
In fact, the latest diesel forklift series are designed with energy-saving features for low fuel consumption, hence, reduced energy and maintenance costs. On the other hand, our diesel forklifts are also constructed with great safety features so your workers are not exposed to risks while on the job. Compared to Liquid Propane Gas forklifts, diesel forklifts have minimal components, which also ensures low maintenance.
Great for Outdoor Applications
This is the best machinery that you should consider for lifting and moving materials in facilities located on open spaces. They are accorded powerful engines and sturdy construction to effectively handle tasks in the constantly changing external work environments. The noise, harsh carbon emissions and substances that are produced by the machine during operation could have environmental impacts when used indoors.
But, you can also acquire additional accessories for reducing the environmental effects in case you need to shift activities to enclosed areas. The powerful engines and durability of diesel forklifts is also an ingredient for longevity. Even under intense pressure from heavy loads and tough working conditions in outdoor environments, these machines can still effectively withstand the tests. However, you must always be keen to use the machine in the recommended way and also perform regular maintenance to keep it in good shape.
Another advantage of our diesel forklifts is, the wider selection of brands offered. We believe in the importance of diversity and, that is why you will always find different models, series and brands of diesel forklifts at our stores. We are always keen on stocking trusted diesel forklift brands for the best returns on your investments. Our forklift brand category comprises, Caterpillar, Crown, Hyster, Mitsubishi, Nissan, TCM, Manitou, Toyota, Komatsu and Still forklifts. In case you may have a problem in choosing an ideal diesel forklift brand, we have professionals to offer the best advice and guidance.
Cost-Effective
Diesel forklifts are also a good match for businesses operating on limited budgets as well as those keen on cutting down operational costs. The prices usually vary from one diesel forklift model and brand to another but, we have the most competitive prices that will cost you far much less than most popular forklift types like, LPG forklifts. Besides, the lower initial costs of our diesel forklifts, the prices of fuel are also relatively lower. On the other hand, these machinery do not usually require a lot of maintenance operations, thus, economical in the long run.
Easily Accessible Services
Due to the popularity of diesel forklifts today, meeting the machines' servicing needs is no longer a significant challenge. Our company offers professional diesel forklift repair and maintenance services, which you can now get whenever you wish in Singapore. Unlike in the past when you had to transport the forklift to a technician, we can deliver all the services right at your premises. We can always conduct thorough forklift inspection, diagnose and solve problems in a short time to avoid inconveniencing your operations. Besides, we can also schedule regular maintenance to make sure that the machinery remains in better condition for the longest period of time.
At Singapore ForkLift Service, we have created a culture of providing quality and competitive prices for forklifts. The selection of diesel forklifts for rent and sale that we offer comprises various leading brands that can truly improve productivity in your warehouse or construction site. Besides these, we also deal in high quality spare parts for diesel forklifts, readily available for delivery on request.
All the diesel forklift spare parts that we offer are genuine and directly obtained from trusted manufacturers. In order to effectively enhance productivity in handling goods, we also stock a huge collection of warehouse equipment. Some of the main warehouse equipment that we can deliver include, reach trucks, hand pallet trucks, tow tractors, order pickers and stand on pallet trucks.
All our diesel forklifts for hire and sale are always readily available and, will be delivered as soon as your order is confirmed. Even if your machine is having hitches, simply call us for immediate and professional repair services.