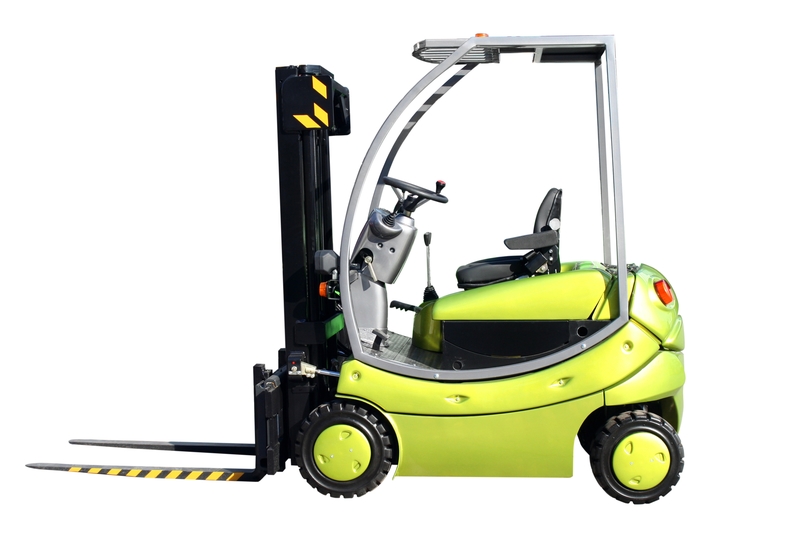 The versatility and durability of Caterpillar forklifts are among the key aspects that have enabled these machinery to successfully thrive in the global market for decades. Caterpillar is a brand name associated with extra strength and greater performance. Of all the various leading forklift brands in Singapore, our Caterpillar forklifts are considered stronger and, built with unique features that can effectively handle varying weight capacities even in the toughest working conditions.
Recommended for both light and heavy-duty commercial operations, the Caterpillar forklifts that we offer can safely lift and move loads of up to 16 tons. These machinery can be effective and very reliable in handling materials and goods in both small, medium and large sized storage facilities as well as factories and, building and construction work sites. Considering the sturdy and innovative designs of our Caterpillar forklifts, they are also quite safe and easy to operate.
Singapore ForkLift Service is committed to providing the best quality Caterpillar forklifts that can efficiently serve diverse applications in handling materials and goods in varying conditions. We go the extra mile to source for and, stock a wide range of Caterpillar forklifts for sale and hire that you can choose from depending on your project, personal preferences and budget. Our company always strives to deliver the best quality, reliable and affordable Caterpillar forklifts for the ultimate customer satisfaction.
Benefits of Caterpillar Forklifts
There are numerous reasons why our Caterpillar forklifts have successfully maintained a top spot in the market. Besides, their sturdy construction, safety and flexibility in handling loads, the following are more reasons to consider renting or buying our Caterpillar forklifts;
Diverse Caterpillar forklift Types to choose from
We have a better understanding of the best forklift types and, have made sure that you can always get diverse options for every application. We offer a wider selection of Caterpillar forklift types, which you can easily select based on the expected load capacity, working condition and budget. Some of the various Caterpillar forklift types that we provide include, electric forklifts, Liquid Propane Gas (LPG) forklifts, gasoline forklifts, rough terrain forklifts, container forklifts, and side loaders among others.
Greater Performance
Caterpillar is a powerful brand known across the world for manufacturing powerful and heavy duty machinery. That is exactly what you will achieve with our Caterpillar forklifts. Even in the harshest work places, these machinery can consistently deliver efficiency with the least risk of malfunction, breakdown or accidents. As a result of this, these forklifts are mainly recommended for large commercial weight and materials handling projects in storage facilities and construction sites. All these are attributed to the super engines of our Caterpillar forklifts and sturdy designs. In fact, Caterpillar forklifts can always deliver greater performance both indoors and outdoors.
Unlike some forklift brands whose spare parts are usually very hard to find in the market, components for Caterpillar forklifts are always readily available. To give you an easier time, we also offer a wide selection of high quality spare parts for Caterpillar forklifts and other forklift brands. As a result of this, you will no longer be bothered with visiting and making inquiries from dealers for spare parts for a Caterpillar forklift. Besides, we also specialize in professional forklift repair services for a complete package.
In most occasions, you will need warehouse equipment to use with the forklift in order to facilitate efficiency in handling materials and goods. Apart from Caterpillar forklifts, there are several Caterpillar warehouse equipment that can effectively work with the machinery without any additional requirements. And, you can always get all these from our company. We offer a wide range of Caterpillar warehouse equipment including, tow tractors, reach trucks, hand pallet trucks, stand on pallet trucks, electric pallet trucks and order pickers.
Competitive prices
Another reason to always consider our Caterpillar forklifts is, they are offered at pocket friendly rates that can easily fit into limited budgets. Whether you need Caterpillar forklift for sale or rent, Singapore ForkLift Service offers the most affordable pricing to help you enhance productivity and efficiency in the workplace while also, saving more on the cost of handling materials and goods. In fact, we can help you get the best quality Caterpillar forklifts for sale, rent and, forklift repair services at fair prices to suit your budget.
In case you are thinking of renting a Caterpillar forklift, our company offers compact, efficient and reliable machinery that can be delivered at your own convenience. Depending on the expected amount of work, working conditions and timeline of the project, we can provide the best Caterpillar forklifts for both short and long terms. Unlike buying, hiring a forklift is always a great option for cutting down operational costs and, improving productivity. With a forklift rental, you have an ample opportunity to plan the work according to your schedule, hence, greater flexibility.
The Best Quality and Affordable Caterpillar Forklifts Singapore
Singapore ForkLift Service is the ultimate place to shop for and acquire Caterpillar forklifts in Singapore. In fact, it is only from our company that you can always get a selection of high quality Caterpillar forklifts, spare parts, warehouse equipment as well as repair services under one roof.
We are always very keen on the quality of every Caterpillar forklift that we offer. Before we deliver the machinery, all the components are first examined, tested and proven effective by our engineers. During this procedure, you can also be able to get answers to any questions or inquiries that you may have regarding the features, operation and performance of the forklifts
We have a dedicated Customer Service team to offer professional guidance to customers so that you can always find the most suitable Caterpillar forklift for your project and budget. Even if the machinery encounters a problem during use, we can also dispatch a team of engineers to inspect the forklift, diagnose hitches and administer customized solutions in a short time.
For the best quality and affordable Caterpillar forklifts for sale and rent Singapore, do not hesitate to get in touch with us.